---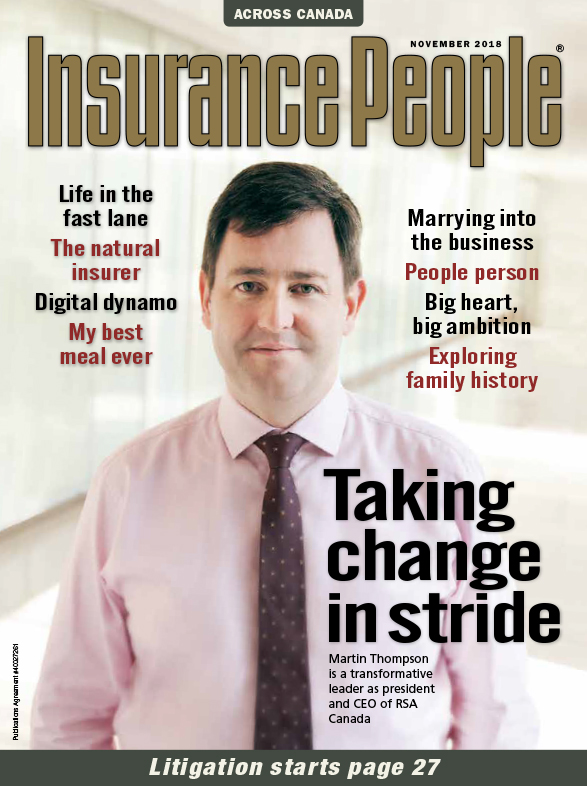 November 2018 Issue
Read it now
View Details

ACROSS CANADA · 12,500 + copies
---
---
Insurance People is regarded as "the people magazine" of the Canadian general insurance industry.
Founded in 1996 as Insurancewest, Insurance People is an independent, award-winning bi-monthly magazine that has grown from its western base to become a coast-to-coast national magazine, offering personality and corporate profiles, select insurance-related articles and "StreetTalk" for insurers, brokers, adjusters and the many trades and suppliers servicing the Canadian property casualty sector.
Advertising Features
Each issue also offers at least one advertising/editorial section featuring a specific area of insurance, most supplemented with an online component:
March: Restoration Review; Insurer Showcase
May: Market Finder
July: Adjusters & Claims
September: Technology; Giving Back
November: Litigation Forum
Ad Rates
For Insurance People magazine advertising rates, please contact:
Trish McRae
Publisher / National Advertising Director
Direct 604-875-7761 · Toll-free 800-888-8811
tmcrae@insurancepeople.ca
For other magazine contacts, please see Contact Us.
---
Back to Top